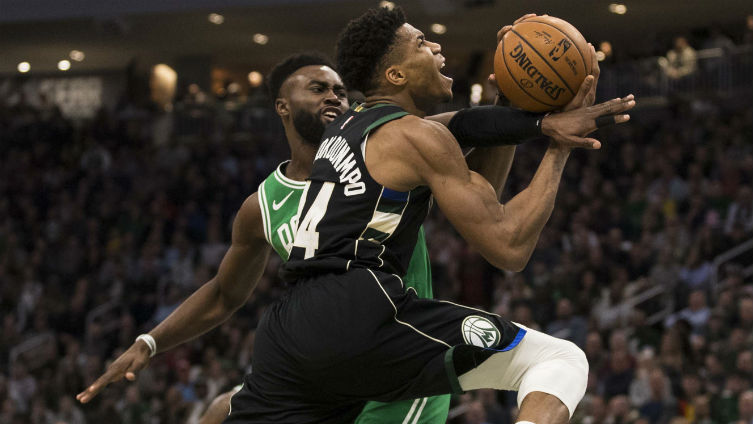 To nobody's surprise, the Boston Celtics are going to play the Milwaukee Bucks in the second round of the NBA Playoffs.
The Bucks, the East's No. 1 seed, had the best record in the NBA last season (60-22) and faced little resistance in their first-round matchup. They easily swept the Detroit Pistons in four games. The Pistons' star player, Blake Griffin, was far from healthy, and that played a role in the Bucks' series win.
This is the second year in a row that the Celtics will play the Bucks in the playoffs. Last year, the No. 2 seeded Celtics defeated the Bucks in a series that spanned seven games. The home team won every game in that series.
Local
In-depth news coverage of the Greater Boston Area.
The Bucks will be a tough opponent for the Celtics. Potential league MVP Giannis Antetokounmpo is a matchup nightmare, and he averaged 27.7 points, 12.5 rebounds, and 5.9 assists per game during the regular season. And around him, the Bucks have solid depth.
In their regular season series, the Celtics posted only a 1-2 record against the Bucks, winning their first meeting in November but coming up just short in their other two games. Antetokounmpo averaged 31 points per game against the Celtics, so slowing him down will be key to finding success in the series.
The Celtics will open on the road in this series, as the first two games will be in Milwaukee. The Celtics will have to ensure that they get off to a solid start and continue to fare well on the road, something they struggled to do last postseason (1-7 record in eight road games, 0-3 in Milwaukee).
Click here to download the new MyTeams App by NBC Sports! Receive comprehensive coverage of your teams and stream the Celtics easily on your device.
Copyright NBC Sports - Boston