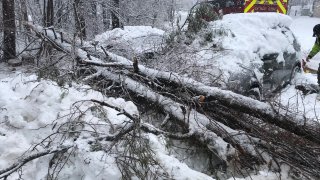 A young girl was injured by a falling tree in Derry, New Hampshire, during the height of Tuesday's snowstorm.
The Derry Fire Department said they received a call just before 2 p.m. reporting a large tree had fallen on Kilrea Road, striking and trapping a child underneath it. The child had been playing outside near a parent who was clearing snow and witnessed the incident.
Derry police and fire arrived to find the child still trapped under the tree, and called for additional resources, including an additional engine and heavy rescue team.
Using their hands, chainsaws and shovels, emergency crews were able to access the child and stabilize the tree. In all 16 firefighters and three police officers worked for almost 20 minutes to free the child.
The child was taken to a nearby ambulance and transported to a local hospital. Fire officials said the child was in "good spirits" and suffered only minor injuries.
No further details were released.