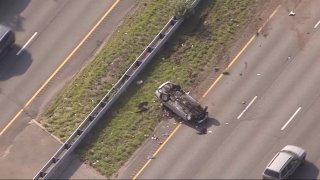 A 3-year-old girl is in serious but stable condition after being ejected from a vehicle that crashed Thursday on Interstate 93 in Wilmington, Massachusetts.
The driver, a 32-year-old Chelsea woman, is also in stable condition with less serious injuries, Massachusetts State Police said Friday morning. The two are at Massachusetts General Hospital.
The woman was driving a BMW station wagon southbound near Exit 33 on Thursday when it hit the guardrail and rolled over, landing upside-down on the northbound side of the highway, state police said.
The 3-year-old was thrown from the vehicle and was airlifted to Massachusetts General Hospital. The driver suffered minor injuries and was taken by ground to the same hospital.
"Two child car seats were located inside the vehicle," state police spokesperson Dave Procopio said in a statement. "Whether the child was appropriately restrained in a seat remains part of the ongoing investigation."
All lanes were shut down in both directions after the crash to allow the helicopter to land.
The cause of the crash is still under investigation, police said Friday.