Well, the weekend's here. That must mean we have showers in the forecast. As if on cue, the second half of the weekend is looking wet.
That means the first half is dry…but it isn't mild. Highs under the clouds will only manage the low 50s, with temps closer to Worcester making the it in the low 60s. The temps are more uniform on Sunday, with most spots holding in the low to mid 50s.
There there's the wind – the final icing on the cake for a raw weekend. Gusts aren't all that intense on either day, but they will be persistent. Along the coast and Capes/Islands, it may make it to 30-35 by Sunday afternoon.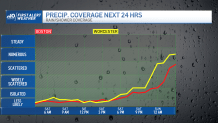 We often say it as meteorologists, but "We need the rain" won't bring much patience and understanding on a day off. It's not so much this weekend as it's been ALL weekends since mid-February that have featured at least one day with a trace or more of precipitation. (Admittedly, some have been mainly dry.)
Clearly, this is trend we'd like to nip in the bud before the summer commences. In any event, this weather system will provide us with a solid dose of water. Most spots will see at least ½ to ¾ of an inch of rain, with several spots at or over 1". If we have to give up a weekend day, might as well make it worth our while.
We're still under the threat for showers Monday and Tuesday as the upper level feature rolls through. These aren't washed out days, but the threat for an afternoon pop-up shower is possible. Temps remain seasonably cool under this pattern through next week.