High wind, rough seas, rain, snow and ice – it appears this next coastal storm will have it all. This evening is when the wind will start to pick up, but the wintry weather and heavy rain holds off until after the Monday morning commute. Before we talk about Monday, for the AFC Championship game tonight in Foxboro, the Steelers vs Patriots game will be mostly dry since a spotty shower along a weak cold front cannot be ruled out, but winds will begin to increase out of the east. That could impact the game, especially during the second half.
As we look ahead towards Monday morning's commute, it still remains dry, cloudy, and windy. By noon, that's when we will start to see this potent coastal storm make its final approach. The rain will arrive from the south and spread north throughout the day. However, north of the Mass Pike, the forecast gets a bit iffy. We will see a rain, snow and ice line setting up. A wintry mix is possible along the state line of Massachusetts and New Hampshire. Mostly snow is possible across the western half of New Hampshire – from Nashua north as temperatures will be hovering right at or above the freezing mark in those areas. Significant snow accumulations (6"+) are possible in the highest elevations of southern New Hampshire.
As for the Monday evening commute, that's when we'll see heavy pockets of rain closest to the coast, east of I-495, where the Flood Watch has been issued. As temperatures start to drop closer to the freezing mark in interior Massachusetts, that's when we will see a wintry mix to sleet to snow in Worcester, Fitchburg and Leominster.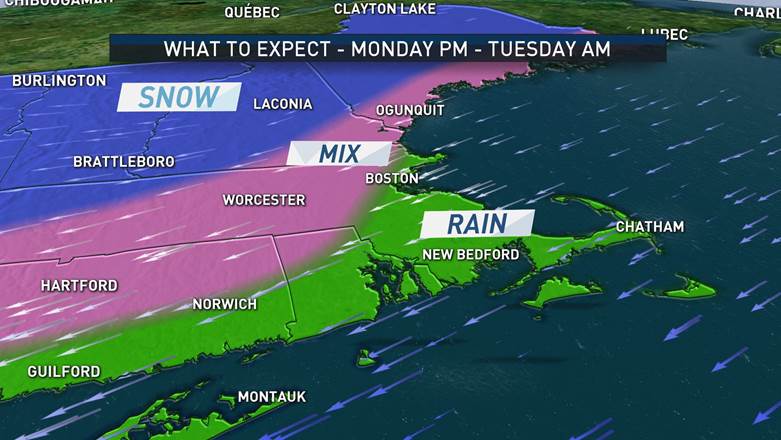 Along the coast, we will see a round of drought denting rain! 1 -3" is possible from the North Shore through the Cape and Islands and into Connecticut and Rhode Island, which could cause local flooding. If the timing of the heaviest rainfall is coupled with high tide and seas up to 17' -22' along the coast, that leaves the possibility of coastal flooding.
Another concern will be the high winds. The strongest wind gusts will be felt across New Jersey and Long Island, but 60 mile per hour gusts are possible for the Cape and Islands, which could still cause damage. Isolated to scattered power outages are possible. The timing of the strongest wind is anticipated to move in Monday evening and into early Tuesday morning.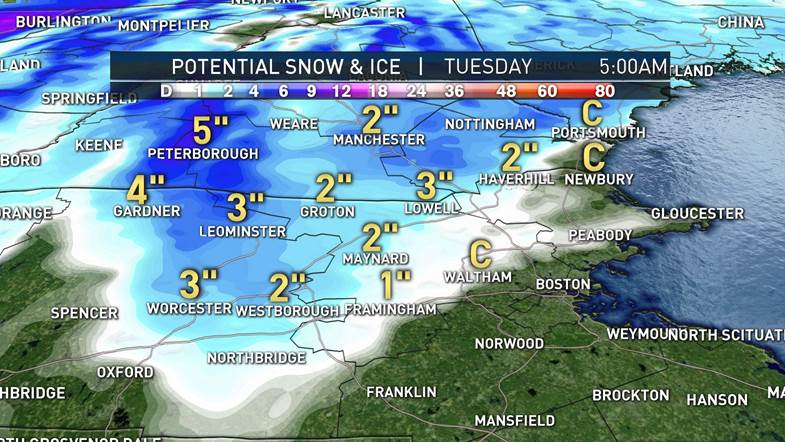 As always, check back with NBC Boston for the very latest on timing and impacts with this coastal storm.