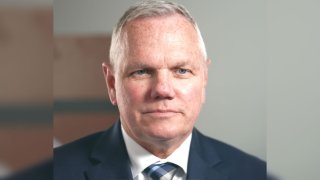 Massachusetts State Police Col. Christopher Mason is set to step down next week, after more than three years leading the force.
Mason's departure is set for Feb. 17, ending roughly 30 years with the state police. The Healey administration didn't say if anyone has been tapped to replace him, but that next steps on leadership at the agency would soon be announced.
In a statement announcing his departure, Mason thanked troopers "for your professionalism, dedication, and exceptional delivery of police services across the Commonwealth. It has been my true privilege to work alongside you."
Gov. Maura Healey, who took office last month, called Mason an exemplary leader.
"His decades-long career in law enforcement exemplified core values of integrity, fairness, and dignity, and we are fortunate to have benefitted from his steady leadership in Massachusetts. I am grateful for his service to the state and wish him the very best in his well-earned retirement," she said in a statement.
Last week, the Massachusetts State Police earned full accreditation from the Massachusetts Police Accreditation Commission. At the time, Public Safety and Security Secretary Terrence Reidy commended Mason, his staff and the members of the department in a statement "for accomplishing this goal and for their unwavering commitment to delivering exceptional police services."
The Healey administration touted that achievement and several others from Mason's tenure, including the implementation of a body-worn and cruiser-mounted camera program as setting a nation-leading standard for quickly testing sexual assault kits at the state crime lab.
Mason was appointed by then-Gov. Charlie Baker in November 2019.
Mason served in a number of leadership roles within the Massachusetts State Police before he was named lieutenant colonel and deputy superintendent, then took the reins. Mason oversaw all state police detectives and forensics teams and supervised the anti-terrorism, cyber crimes and fraud identification units.
Before graduating from the State Police Academy in 1993, Mason was a natural resource officer in Barnstable.