A high pressure system will slide offshore tonight, ushering in warmth and humidity for Wednesday as the surface wind flow increases from the southwest. Clouds increase throughout the day on Wednesday as an upper level trough, a weather disturbance high in the atmosphere, approaches from Canada, accompanied by a cold front at the surface.
A few showers are possible near the Canadian border as soon as overnight Tuesday night, but for the most part, scattered showers and thunder for the North Country of New England seem most likely to develop during the daylight hours of Wednesday – particularly during the afternoon.
Local
In-depth news coverage of the Greater Boston Area.
By Wednesday evening, it's not impossible that a few of these storms migrate farther south in New England, but significant rainfall or severe weather seem unlikely. This diving disturbance will slow enough that it very well may still yield showers and a few thunderstorms across the region on Thursday, particularly in Southern and Eastern New England.
Though it's possible this slowing cold front will interact with some moisture indirectly on the northern fringe of Tropical Depression #8 (which likely will be named soon), a direct contribution from the storm seems unlikely – limiting the potential for significant rainfall to northern areas of New England Wednesday, remaining localized at best farther south Thursday. Over the next several days, tropical systems to our south are forecasted to bring rip currents to south and east facing coasts as offshore waves swell between two to four feet.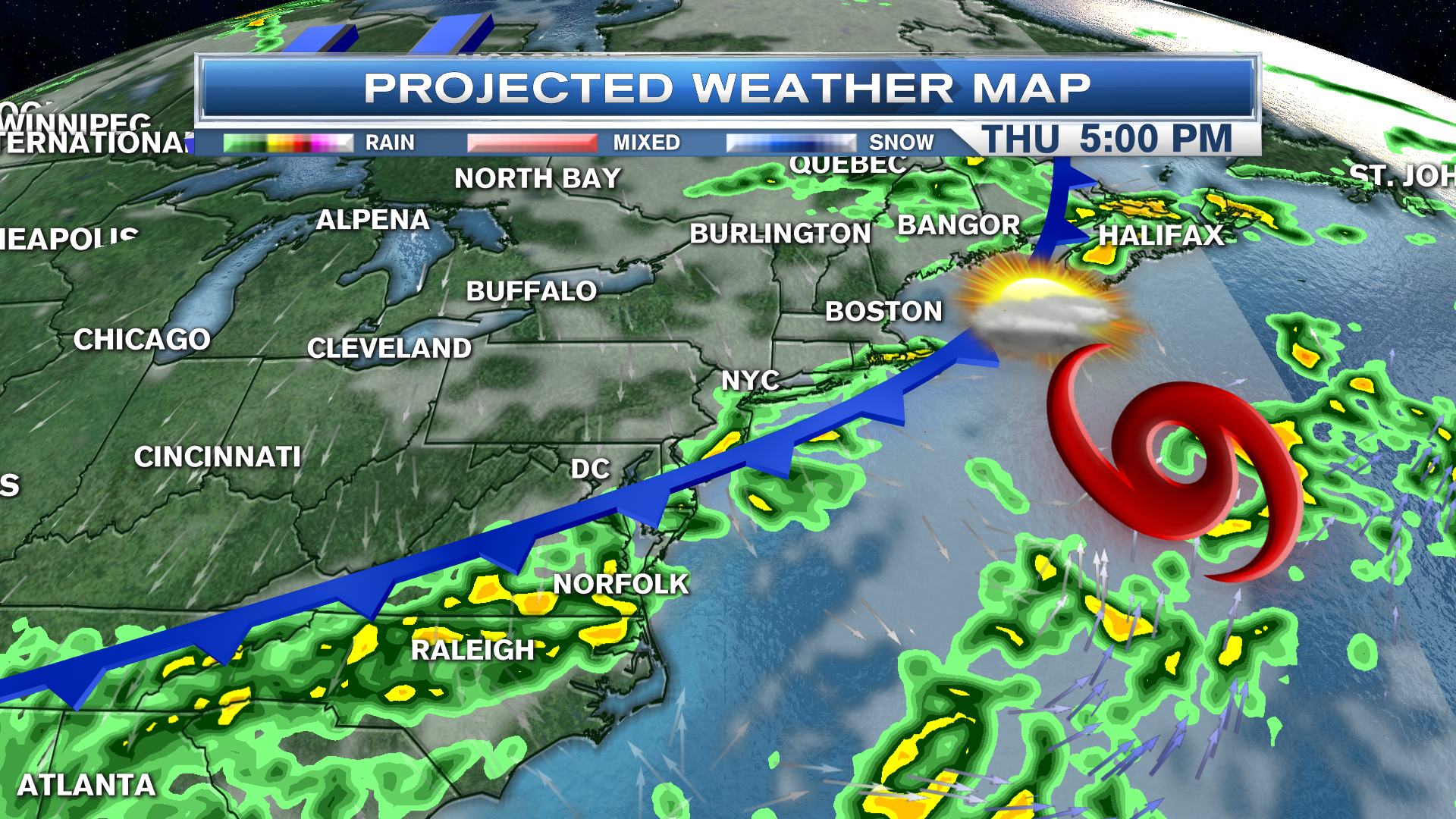 The cold front slides offshore sometime Thursday, ushering in a cool Canadian air mass with a return to more seasonable temperatures in the upper 70s (The climatological norm for this time of year is 77 degrees). A stretch of sunshine and comfortable air extends from Friday through Labor Day as a high pressure reigns across the region. We return back into the 80s next week as a southerly wind flow sets up through a deep layer of the atmosphere, which may open the door to tropical moisture…though it's too early to say for certain.