We're one day closer to the weekend and with today bringing variable cloudiness and a chance for some lake effect snow bands into the North Country, not everyone will see the spotty lake effect snow bands.
However, everyone in New England will feel the impacts of the cold Canadian air mass that will infiltrate the region this weekend.
We're talking the coldest high temperatures since last February- cold. Not only will it be cold on Saturday, but it will be blustery, so we have to factor in wind chill.
Local
In-depth news coverage of the Greater Boston Area.
At least Friday starts us off with high temperatures into the 30s under mostly cloudy skies. A cold front sweeps across the region and ushers in the cold.
By Saturday morning, wind chills will be in the single digits for most of New England. Extreme southern New England and coastal areas will still feel like it's in the teens, while along the Canadian border and higher elevations of northern New England will see wind chills at least 10 degrees below zero.
By noon Saturday, those "feels like" temperatures will improve slightly, but not by much. With the thermometer only expected to reach into the upper 20s for high temperatures, and with the wind expected to howl out of the northwest, sustained at 10-15 MPH, wind chills will only be in the teens Saturday afternoon. The only good news is that at least we will have more sun than cloud cover so that will help slightly.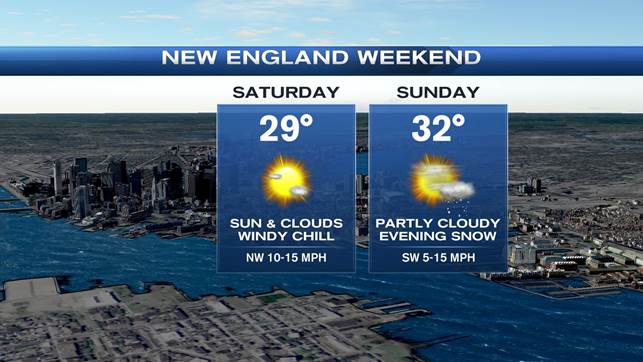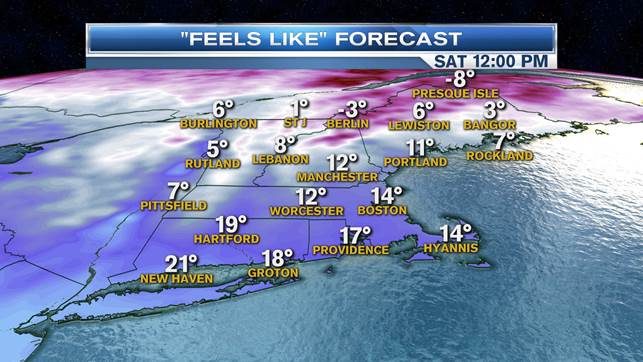 Sunday's set-up brings the chance for system snow to move in as early as Sunday evening into southwestern New England before spreading eastward. The exact timing and estimates of snowfall totals are still up for debate, but stay tuned for the very latest updates to your forecast on necn, Countdown NBC Boston or on the go with your necn or NBC Boston app.