A Boston Celtics was ordered to stay away from the TD Garden after allegedly throwing a water bottle at the head of Kyrie Irving after a playoff game.
Cole Buckley, a 21-year-old man from Braintree, Massachusetts, appeared in Boston Municipal Court Wednesday to be arraigned on a charge of assault and battery with a dangerous weapon.
Buckley — whose occupation is listed in court paperwork as a student at the University of Rhode Island — made national headlines and earned stern rebukes from many in the basketball community after he allegedly threw the water bottle after the Brooklyn Nets dismantled the Celtics in Game 4 of their playoff series Sunday.
A plea of not guilty was entered on Buckley's behalf and he was released on $500 bail he had already posted. He is due back in court for a pre-trial hearing in August.
Suffolk District Attorney Rachael Rollins said the charge fits the alleged crime.
"No one who would take these types of actions has any business identifying themselves as fans of the game," Rollins said in a statement Wednesday. "Purchasing a ticket does not buy you a free pass for obnoxious, racist or assaultive behavior. The cost of admission affords you the privilege of attending the game. The cost of abusing that privilege through criminal behavior is prosecution."
Buckley was initially due to be arraigned in Boston Municipal Court on Tuesday, but the court date was postponed until Wednesday.
A police report released Tuesday included new details about Sunday's incident in which the Boston Celtics fan hurled a Dasani water bottle at the Brooklyn Nets star as he walked off the TD Garden court. The report reveals that the water bottle "grazed the head" of Irving. Earlier reports had said the bottle narrowly missed him.
The report said Buckley was escorted out of the arena and transported to the police station. He was booked without incident.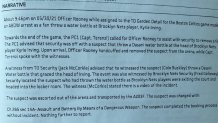 Two other men were also arraigned Wednesday on charges that included assault and battery on a police officer in separate incidents at Sunday's playoff game. Both were also freed on bail and ordered to stay away from the TD Garden.
William Leite, a 35-year-old Oxford resident, is accused of trying to start a fight with Nets fans during the game. Security staff called a Boston Police officer to help remove him from the Garden. Prosecutors say he ran away and physically attacked the officer.
Twenty-three-year-old Michael Oliver of Gloucester, who was ejected from the venue, is accused of arguing with security outside before refusing to leave the area on a Boston Police officer's orders. Oliver allegedly assaulted the officer during a struggle after the officer tried to arrest him.
Leite and Oliver are due back in court in August.
Rollins condemned all of the incidents Wednesday.
"Imagine if a stranger showed up at your job and threw a water bottle at your head," she said. "We have mandated civility and sportsmanship in all youth sports, yet condone profanity-laced chants and a 'Shut Up and Dribble' mentality for certain professional sports and athletes? There is a growing and disturbing trend in the NBA of players being physically and verbally assaulted with profanity and blatantly racist statements. That behavior is completely unacceptable. When these type of acts rise to the level of criminal offenses, the individuals who commit these offenses can and should expect to face prosecution. This is an unprovoked act of workplace violence against Kyrie Irving and the police officer."
When asked about the incident with Irving during a Wednesday press conference, Gov. Charlie Baker said he was "glad" Buckley was promptly identified and arrested by TD Garden security and local police.
"Look, no one should ever throw anything at anyone — fan to fan, fan to player. You know, you're automatically putting someone in danger when you do that," Baker said. "Fans should be fans. Fans should root for the home team. They should root hard for the home team. They should do everything they can to make noise and create that adrenaline rush that athletes talk about when that type of thing goes on in a venue. But, you know, they should never throw anything at anybody."
Buckley did not respond to reporters' questions outside of court.
His attorney filed a motion to postpone the arraignment, which was denied.
"It provides for an effective just alternative to a prosecution, particularly in a case like this, where an individual has no criminal record," attorney Stephen Neyman said.
"It's unfortunate that sports has come to this kind of crossroads," Irving said after the game. "Just underlying racism and just treating people like they're in a human zoo. Throwing things at them. At a certain point it just becomes too much."
"We know how these people here are in Boston, and we know how passionate they are about Kyrie in particular, and they're still upset at him. That's no reason for them to act childish," Irving's teammate Kevin Durant said about the incident in a postgame press conference.
Sunday night marked TD Garden's first game at full capacity since 2019. The Nets eliminated the Celtics in Game 5 Tuesday.
It's the latest of multiple recent incidents in the NBA involving inappropriate fan conduct. During Game 2 of the Washington Wizards-Philadelphia 76ers series, a Philly fan dumped popcorn on Russell Westbrook's head as he exited the court with an injury. A Utah Jazz fan made lewd, racist comments toward Memphis Grizzlies star Ja Morant's parents during Game 2 of their series.
The NBA is now looking to update its code of conduct for fans, stating it will no longer tolerate anything that jeopardizes a safe and respectful environment.
Tricia McCorkle, a TD Garden spokesperson, said in a statement that the incident in Boston is "under review."
Buckley will be subject to a lifetime ban from the venue, according to McCorkle.
"We have zero tolerance for violations of our guest code of conduct, and the guest is subject to a lifetime ban from TD Garden," McCorkle said.
Fans of both teams denounced the behavior.
"I think it's ridiculous. There's no reason for that," Celtics fan Sam Govoni said. "Booing him is fun during games but there's no reason to throw anything at anyone. It's ridiculous."
"I'm glad something finally got done. He should face charges," Brooklyn Nets fan Chris Rue said. "I hate to say it, but don't be an idiot."
The Associated Press contributed to this report.