Community members advocating for the rebuilding and reopening of Norwood hospital gathered for a rally Sunday, nearly one year after a historic flood from torrential downpours forced its closure.
The rally, organized by the Coalition to Rebuild Norwood Hospital, began around 5:30 p.m. at the hospital.
"We want them to get started as soon as possible," said Kathy Reardon,who was a registered nurse at Norwood Hospital. "Our community desperately needs our hospital back."
The full-service hospital was forced to shut down in June 2020 after a massive rainstorm in a short duration dropped nearly a half-foot of water, flooding parts of the town and damaging the building.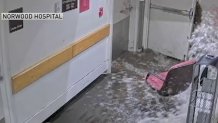 "The subsequent closure of this community institution could not have come at a worse time," said Matthew Lane, a member of the coalition and the Norwood Board of Selectmen, in a written statement. "Not only were many left without access to their healthcare professionals, our first responders had to reroute all emergency medical calls to other hospitals outside of the region. In a matter of days, hundreds of essential hospital jobs that supported local families and our community were eliminated or transferred."
Hospital officials at the time said it would take at least another year to rebuild, but there have been no updates on a reopening date.
Meanwhile, employees like Reardon, had to find work at other hospitals due to the closure.
"Many of us have worked here for a very long time," said Reardon. "It's just devastating, you know, that we have to travel farther for work."
Advocates for the hospital's reopening say its closure has burdened neighboring emergency services.
"As a nurse I am concerned about the ability of patients to access local, high-quality care and as a community member I am concerned with the future of healthcare in the greater Norwood Area," Joan Ballantyne, a registered nurse and co-chair of the Massachusetts Nurses Association Bargaining Unit at Norwood Hospital, said in a statement. "We have come together to urge that Norwood Hospital be rebuilt without delay and re-open with all prior services."
Martha Welch, who attended the rally, is a COVID-19 survivor. She said that, last year, she came down with cold symptoms and took a COVID test. Once her test came back positive, her doctor told her to head to an emergency room.
"They took X-rays and told me, 'You're staying,'" said Welch, who was admitted at Norwood Hospital.
Welch said she does not remember what happened after she was admitted, but was told she had respiratory failure and was placed on a ventilator in the ICU for 10 days.
"I spent the time after I came home, I was out of work for three months learning how to walk and eat and everything after my COVID experience," said Welch. "But if it hadn't been for this hospital and these nurses, I wouldn't be here today to talk about it."