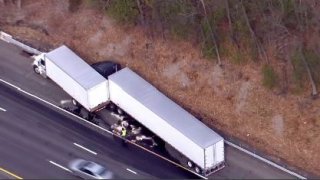 Multiple cars got flat tires after debris spilled from a vehicle on the Massachusetts Turnpike in Framingham Wednesday.
Massachusetts State Police said a large amount of mud, cement and rocks spilled from a vehicle over a five-mile span of the highway around 9:25 a.m.
The Massachusetts Department of Transportation said all westbound lanes were temporarily closed near mile marker 114 for cleanup.
Aerial footage showed two trucks on the side of the highway.
Police said all lanes were reopened as of 10:05 a.m.