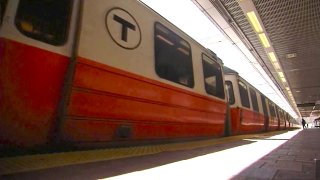 As the MBTA struggles with service delays and prepares to suspend downtown Orange Line service for two weekends next month to work on tracks that were part of last year's month-long end-to-end shutdown, Gov. Maura Healey said the new general manager she plans to name at the T will be charged with making "these things stop happening."
Hiring a new general manager to run the beleaguered public transit agency was on the new governor's to-do list even before Healey won the November election. Three weeks into her tenure, Healey has kept the Baker administration's team in place at the MBTA and at MassDOT generally, including temporary hold-over Transportation Secretary Jamey Tesler and Interim MBTA GM Jeff Gonneville.
The T announced this week that the Orange Line will be shut down in both directions over a nine-station span between Ruggles and North Station the weekends of Feb. 4-5 and Feb. 18-19 "[b]ecause of the continued demolition of the Government Center Garage by private developer HYM Construction." But it also gives the T a chance to "perform additional track work, including the replacement of rail fasteners between Back Bay and Ruggles stations," the T said.
In its announcement Thursday, the T also said that "additional weekend diversions will be necessary in the coming months to accommodate the ongoing work" at Government Center. The T also announced upcoming service changes for the Green Line, Red Line and Haverhill Line on the commuter rail.
Haymarket-area buses will not be diverted during these weekends and will continue to stop at the temporary Haymarket bus stops. A list of Haymarket bus routes and these temporary stops is available at mbta.com.
The MBTA on Thursday was advising Orange Line riders of delays of up to 15 minutes "while will experience longer wait times while we operate with a reduced fleet."
Extra MBTA personnel will be present to assist riders during these delays.
Local
In-depth news coverage of the Greater Boston Area.
Haverhill Commuter Rail Line trains will be replaced with free bus service between Haverhill and Reading Stations from Saturday, February 4, through Sunday, February 12.
"Well, look, this is why I prioritized a new GM. We're moving through that search very quickly. I want to get the best possible person and team in place so that these things stop happening," Healey said Thursday morning in Newton when asked about the latest shutdown. "Obviously, we come into a situation where there's a lot of work to be done. There are real issues operationally, particularly when it comes to workforce, but this is exactly why we prioritized getting the GM in place."
Healey said hiring a new GM for the MBTA is a "weeks, not months, scenario." In December, her transition team retained Krauthamer & Associates, which it called the "premier transit search firm in the field," to run a wide search for the next head of the T. Healey has also pledged to hire a new safety chief at the T in her first 60 days as governor. On Thursday, she did not say what her safety team would do differently than the current team under chief safety officer Ron Ester.
"I don't know all of what the previous efforts have been," she said. "I can tell you what my team is going to do. We're going to make sure that we're inspecting all of the buses, rails, trains -- people in the state need to know that their transportation system is safe and reliable, and that starts with with getting that team in place."
Riders are encouraged to subscribe to T-Alerts or to follow the MBTA on Twitter for the latest service information.
Copyright State House News Service