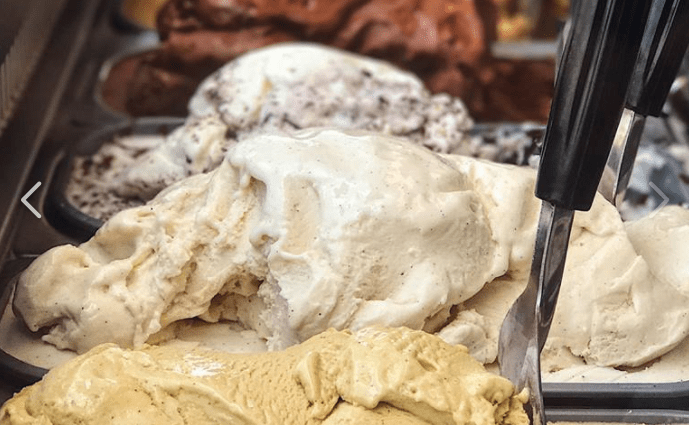 With warmer temps and longer days, summer is the perfect time to take a trip to the neighborhood ice cream shop!
Capo's Gelato Cart:
Cool off with Capo's fresh house-made Gelato, featuring a variety of flavors including Vanilla, Nutella, Salted Caramel, Mint Stracciatella, Espresso, and Cannoli, in addition to rotating specials such as Chamomile Strawberry Shortcake. The Gelato Cart will also boast a variety of refreshing Sorbets including Strawberry Rhubarb, Lemon, and Chocolate Peanut Butter. Gelato and sorbet are available in Kiddie ($3.50), Single ($4), Double ($6), Tripe ($7) and by the Pint ($8). Cups and cones can be customized with toppings including crunchies, caramel, hot fudge, marshmallow, fresh fruit, crunchies, and sprinkles. Enjoy the frozen treat on-the-go or in Capo's café, located inside Capo restaurant, adjacent to the dining room. The Capo Gelato will be available seven days a week this summer, starting at noon Friday – Monday and 4 p.m. Tuesday – Thursday. All gelato offerings will also be available to guests dining at Capo.
Cranberry Cafe:
Ice scream! You scream! We all scream for ice cream! Cranberry Cafe is now serving ice cream and other tasty treats. Stop by and treat yourself! From classic cones and frappes to hot fudge sundaes, the Cranberry has got you covered! Cranberry Cafe is opened: Mon-Tue 6 am – 9 pm Wed-Fri 6 am – 9 pm Sat 7 am – 9 pm Sun 9 am – 9 pm.
Local
In-depth news coverage of the Greater Boston Area.
Sullivan's:
It's known for its hot dogs and clam strips, but Sully's has a vast selection of ice cream and dessert treats! Serving up Hood Ice Cream in flavors like vanilla, Chocolate, Strawberry, Maple Walnut, Chocolate Chip, Mint Chocolate Chip, Orange Sherbert, you can order it in a sugar or wafer cone or cup! Sully's also offers low-fat soft serve in vanilla, chocolate, strawberry or our favorite a twist! You can also get your ice cream in a hot fudge sundae or hot fudge brownie sundae!
Cafe Arpeggio:
With their 103 flavors of homemade deliciousness, the possibilities are endless, and the decision time might take a few extra minutes. If you're a peanut butter fiend, then the Elephant Memory sundae is the way to go. This mouthwatering sundae consists of peanut butter hot fudge drizzled over two scoops of ice cream, chopped Hydrox cookies (similar to Oreos), chopped Reese's Peanut Butter Cups, and of course, whipped cream and nuts. If you're looking for something a little more simple, but with the same amount of flavor-blasting taste, some great options are white chocolate almond, coffee crunch, butter walnut, apple pie, ginger snap, mint triple chip, mudd pie, heath bar, or raspberry chocolate, to name a few. All ice cream flavors are handmade with the best ingredients at the Fall River location every Wednesday. Moderately priced and made with the finest ingredients, Cafe Arpeggio's special flavors can also be made-to-order for special events. Cafe Arpeggio's is open daily 7am-10pm
Molly Moo's:
Molly Moo's at Carson Beach is officially open for the season. Serving up breakfast, lunch and dinner, Molly Moo's also features homemade ice cream and this year Hawaiian shave ice! Also on the menu are Molly Moo's famous ice cream cookie sandwiches! They are open daily from 10am-10pm.
Ben & Jerry's:
From a renovated gas station in Burlington, Vermont, to far-off places with names we sometimes mispronounce, the journey that began in 1978 with 2 guys and the ice cream business they built is as legendary as the ice cream is euphoric. This legendary ice cream chain has opened a shop in the Seaport District. Ben & Jerry's is located at 83 Seaport Blvd, they are open daily from 11am-11pm.
The Fro-Yo Mix & Match:
Imagine this: All of your favorite candies and treats, blended together with vanilla, chocolate, plain or sugar-free frozen yogurt, to make the perfect confectionary treat. If that's what you're looking for, then Amsterdam Cafe and Broadway's Best are the places for you. You can choose from an abundance of toppings, including banana, blueberry, Butterfinger, brownie, cheesecake, peppermint, honey graham, Kit-Kat and even pumpkin, pick a frozen yogurt flavor, and have it all mixed together for the ultimate frozen-dessert dream come true. Both cafes also offer shakes and smoothies! And they both deliver.
The post Cool Zone: Ice Cream and Gelato in Southie appeared first on Caught In Southie.