What to Know
In February 2018, Katherine Hamelin discovered heating oil had seeped through her linoleum floor at her Sutton, Massachusetts home.
The Department of Environmental Protection (DEP) oversaw the cleanup of an estimated 100 gallons of heating oil at the home.
Hamelin then discovered her home insurance policy would not cover the damage and lengthy cleanup.
Katherine Hamelin noticed something was wrong as she walked up the driveway to her Sutton, Massachusetts home in February 2018. She could detect the odor of oil in the air.
Hamelin immediately headed down to her basement and discovered oil had seeped through her finished linoleum floor. The thick, red liquid covered her belongings and the stench was overwhelming.
At the time, Hamelin thought it would be a minor inconvenience.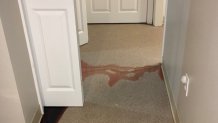 "It looked like a mop and bucket job, to be honest," she recalled. "I thought we would just clean it up."
But within hours, emergency crews and a disposal technology team had arrived at her house. They started tearing apart her finished basement, jackhammering the concrete floor, and scooping out contaminated soil 30 inches below the ground.
Local
In-depth news coverage of the Greater Boston Area.
Her home quickly transformed into a massive hazardous waste site. The Department of Environmental Protection (DEP) oversaw the cleanup of an estimated 100 gallons of heating oil.
"It was a whirlwind," Hamelin expressed. "Nothing prepares you for that as a homeowner."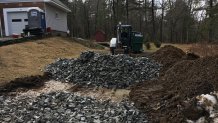 The bills for the cleanup came fast and furious. Crews informed Hamelin the remediation project could cost anywhere between $50,000 and $250,000.
That's when she heard this stunning news: Her home insurance policy would not cover the damage and lengthy cleanup.
"I was in shock," Hamelin recalled. "I wondered if I missed something. Did I refuse some add-on thing that I was offered? Instantly, I think that's what you start to do. You start to question everything that you did that brought you up to this that I wasn't covered."
Hamelin is far from alone.
The NBC10 Boston Investigators learned in February that homeowners often receive denial letters from insurance companies after heating oil spills.
Susan Crane, an environmental attorney who has assisted people affected by heating oil spills, told the NBC10 Boston Investigators that the typical insurance policy has a pollution exclusion for these catastrophes.
The attorney says clients have tapped into college savings and retirement funds for extensive home repairs that sometimes require moving the homes off their foundations. There are an average of 118 heating oil spills per year in Massachusetts, state records show.
A legislative effort in 2010 tried to improve insurance coverage for families impacted by heating oil spills. However, that law had a loophole: insurance companies are only required to "make coverage available" rather that provide mandatory coverage.
This means homeowners like Hamelin have to opt in to the additional coverage, and it seems many of them remain in the dark. State records the NBC10 Boston Investigators obtained show only about five percent of the estimated 750,000 Massachusetts homes with heating oil carry the insurance coverage.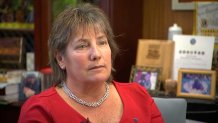 "Everything is wrong with this scenario," said state Sen. Anne Gobi, a Spencer Democrat.
Gobi watched the NBC10 Boston Investigators February report, which featured a Blackstone mother of three who discovered she was on the hook for a costly oil spill cleanup, even though the incident happened years before she bought the home.
"When I saw the report you did and hear that poor woman's story, it was like, 'Wow,'" Gobi expressed.
That is why the state lawmaker is proposing a bill that would require insurance companies to provide coverage for home oil spills. When the legislation gets a hearing, she is hoping those affected by the financial nightmare will share their testimony at the Statehouse.
"Homeowners don't know this exists and I imagine most assume it's covered," Gobi told NBC10 Boston. "That can be the difference between keeping their home or maybe losing it."
The complicated cleanup at Hamelin's home forced her to temporarily move in with her elderly parents in Southborough. The stress it put on them still moves her to tears.
"It just breaks my heart," she said.
When asked how much she's spent on the cleanup project, Hamelin said she stopped counting once the tab reached $80,000. Crews estimate there is still another $30,000 of remediation work needed before the DEP gives a stamp of approval.
Hamelin has spent sleepless nights worrying about the value of her home. Having worked in real estate for many years, she is aware of the stigma that contamination or oil spills can have on a house.
The widow lost her husband to cancer in 2012 and lives alone. She now feels trapped.
"I'm not happy here anymore," Hamelin said. "It's a constant worry. It's affected me emotionally and physically. It's affected my entire family. And the financial burden is just overwhelming."
Ryan Kath can be reached at ryan.kath@nbcuni.com. You can also follow him on Twitter or connect with him Facebook.