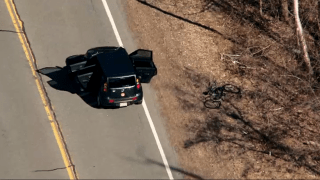 One of the three bicyclists who were hit by an SUV on Thursday in Ipswich, Massachusetts, has died, authorities said.
George Norris, 58, of Ipswich, died early Friday morning at Massachusetts General Hospital. He had been airlifted there after he and two others -- a 19-year-old boy and a 60-year-old woman -- were struck while riding their bikes on Topsfield Road near Turner Hill around 2:11 p.m. Thursday.
The other two victims are recovering from their injuries.
The driver of the Kia Soul, a 43-year-old Ipswich woman, stayed at the scene of the crash and cooperated with the investigation, authorities said. She was taken to a nearby hospital with injuries that are not believed to be life threatening.
Local and state police are continuing to investigate the incident. No charges or citations have been issued at this time.