Thirty years after the killing of a 10-year-old Massachusetts girl, prosecutors in Hampden County hope a tank top has the potential to move the case forward.
During a news conference on Wednesday morning, Hampden County District Attorney Anthony Gulluni made a new plea to the public for information about the 1993 killing of Holly Piirainen, a murder that has gone unsolved for three decades.
During the news conference, Gulluni showed a white tank top with the word "BOSTON" on it in blue, purple and pink lettering. Prosecutors are asking anyone in the public with information about the tank top to reach out to law enforcement.
"We are issuing a clarion call to the public, and together as a community, to finally bring justice for Holly and her family," Gulluni said.
Holly, who lived in Grafton, was visiting her grandparents in Sturbridge with her brother when she was killed in August of 1993. Her father saw her heading toward a home to play with puppies there, officials have said, and he reported her missing when she didn't return.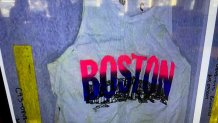 Her body was found in nearby Brimfield on Oct. 23, 1993, in the woods off Five Bridge Road.
The investigation has continued ever since her body was found, and her family has continued to hold out hope that the case would be solved.
"Just a couple weeks ago, on January 19, 2023, Holly Piirainen would have celebrated her 40th birthday," Gulluni said. "For the past thirty years, the Piirainen family has been coping with this unimaginable tragedy."
Prosecutors on Wednesday said that the crime scene in 1993 was photographed and processed by Massachusetts State Police, including its Crime Scene Services Section and Crime Laboratory, and the Office of the Chief Medical Examiner, and that items found at or near where her body was found were documented, seized, and have been maintained by state police.
Evidence has been continuously reviewed throughout the ongoing investigation, and identified for forensic analysis.
Hampden County has an ongoing effort to solve outstanding homicide cases like the Piirainen case, which has been looked at to see if further forensic or scientific examination would help find new clues.
Within the past six months, case items documented in 1993 have been identified for further forensic testing, which would expand on previous testing, prosecutors announced Wednesday. In the case of one item — the tank top — prosecutors hope to get the public's help in learning more.
The tank top doesn't have size information or tags, prosecutors said, who hope to learn who owned the shirt, where it was sold, what company made it, and any association with the area Piirainen was found at in Brimfield.
"It's definitely going to get solved. It's just a matter of time," said Holly's grandmother, Maureen Lemieux, as police and the family launched a campaign to solicit tips in 2017. "We have material that was recovered from the scene, we have DNA from certain people. We have a lot of evidence - we just need that final push."
Anyone with information about the case is asked to call state police at 413-505-5946 or 1-855-MA-SOLVE (1-855-627-6583), or by texting the word "Solve" to 274637.