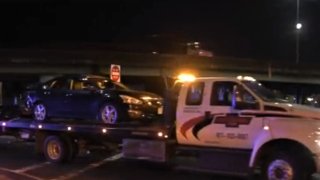 All lanes on Interstate 93 southbound in Boston have reopened after major traffic delays due to deadly crash early Thursday morning.
The two-car crash happened around 2:24 a.m. by exit 14, south of Columbia Road. Massachusetts State Police responded to the scene.
The crash caused about 10 miles of backups and major delays during the Thursday morning commute, with cars crawling at around five miles per hour on average.
There was also heavy traffic on the northbound side of I-93 as late night construction in the O'Neill Tunnel added to the delays. All lanes reopened around 5:19 a.m.
State police said a 41-year-old Randolph man, Christopher Dopson, was killed in the crash. He was driving a 2011 Chevy Malibu in the wrong direction -- northbound on the southbound side of the highway -- when he crashed into a 2008 Honda Pilot head on.
The driver of the Honda, a 34-year-old man, also from Randolph, was taken to Boston Medical Center with serious injuries.
Police are continuing to investigate the crash, including why the Chevy was driving on the wrong side of the highway.