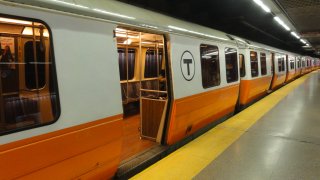 A train with a mechanical issue at Back Bay caused delays on the MBTA's Orange Line on Friday afternoon.
The T first reported the issue shortly before noon, saying delays of up to 15 minutes northbound should be expected and trains might be asked to stand by at stations. About 10 minutes later, they provided an update increasing the delays to up to 25 minutes.
"Trains are now being asked to stand by at stations and may be crossed back for service," the MBTA said on Twitter.
At 12:11 p.m., the T said the train was moving again, but delays of up to 25 minutes should still be expected.
By 12:30 p.m., they said the train was clear and the issue had been resolved.