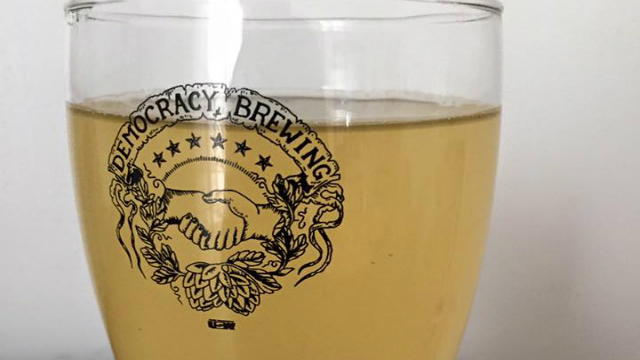 From the get-go, mega beer fan James Razsa and partner and head brewer Jason Taggart had a simple, if ambitious, plan for their forthcoming brewhouse, Democracy Brewing.
"Our whole mission has been to recreate the 'public house,'" said Razsa. "Trying to open a place in Boston that becomes another general gathering place that builds community. A spot that brings out the folks that make America and Boston an amazing place."
Finding a location was a nightmare, especially for what we're trying to do.
Local
In-depth news coverage of the Greater Boston Area.
And after four years of development, Razsa and Taggart's brewery and restaurant is on track for a November opening right in Downtown Crossing. Razsa says they are in the final stages of lease signing and red tape so is staying mum on the exact location, but says the ten months spent finding a space in the city with the notoriously steep rents made locking down a location an endeavor almost as laborious as the rest of the project as a whole.
"It was a nightmare, especially for what we're trying to do," he said. "After looking at locations in Southie and Dorchester, the rents there were almost the same, if not higher than downtown, so we figured we'd just go where the people are."
And the people will likely come. Democracy Brewing will feature a full kitchen supporting a communal beer hall feel, with a shared-plates concept featuring foods that incorporate different aspects of the beer. The menu will outline easy-to-pair beer and food suggestions that are great as stand-alone orders or as couplings. "If you want to just come in and get some chicken wings and a pint, great," said Razsa. "But if you want the honey glaze of the wings to be enhanced by the flavors of say our brown ale, that will be lined out for you and described for customers."
As for beers, Razsa said they're going to be going after the beer snob and the newbie alike, appealing to both without alienating either. They'll open with a Workers Pint golden ale, held at a $5 price point even in the downtown beer scene. "Our tagline is 'just because your boss doesn't pay you enough, doesn't mean you can't have a great beer,'" he said with a laugh.
Other suds on the opening lineup will be their 1919 Irish stout ("One of my favorites that Jason does, a dry Irish stout with rich maltiness and very drinkable"), a flagship Consummate Rioter IPA, a Pale Ale, seasonal IPA offerings that will change every quarter, and Fighting 54, their house saison. "Jason uses a great yeast strain for that that really brings out the cracked pepper taste while remaining very balanced," said Razsa of head brewer Taggart, who cut his teeth at John Harvard's Brewery in Cambridge. Cider fans rejoice: Democracy Brewing will also have a full cider license.
On the higher end, Democracy Brewing will have an entire room dedicated to cask and barrel aging in house, and there will be an ongoing Friday un-casking so that patrons coming in after work can see a fresh barrel being opened and sample what is on the cask menu the rest of the night.
The layout (below) will be of the communal beer hall variety, with full pours and seating for 100, in addition to a 45 seat event space for private meetings and live music. Expect walls adorned in murals, paintings, and vintage photographs paying homage to the unsung heroes of Boston and the Bay State. Think: current stalwarts of warriors for immigrant workers rights in Boston today, or Ebenezer Mackintosh, a revolutionary war-era shoemaker, rabble rouser and one of the heads of the Sons of Liberty and mob leader at the front lines of the Boston Tea Party and similar moments of 18th and 19th century civil unrest.
"We're trying to highlight the folks that make Boston a place where positive change is possible," said Razsa.
Additionally, the brew house will feature a classic Irish "snug," a traditional offshoot small gathering room fit for about 4-6 people that allows patrons to be closed off from the rest of the room just off the side of the main bar. Customers can ring a bell which will summon the bartender, who takes orders and passes them through a small window to maintain the aura of privacy.
Razsa said Democracy Brewing will be big enough for distribution of their kegs to local bars, and will feature takeaway 32-oz. can growlers, with an aim to looking at in-house commercial canning and contract brewing down the road. But for the opening, he maintains the focus is getting the operation going, not only for the beer drinking public, but for the public that wants a piece of the action. They are offering Mass residents a Direct Public Offering so that locals can invest in the company and truly make it a public house of community and beer. And already being modeled as a worker cooperative, all employees who are hired can get voted in or out as an equal profit sharing employee.
"Letting employees buy Class A shares in the business and getting a piece of the company means that everyone from the busboys and servers can get a piece of the pie," he said. "It's very Democratic. If your hard work makes this dream possible, then we believe you deserve your fair share of it."
Images provided.
More BostInno Stories:
Copyright Boston - BostInno