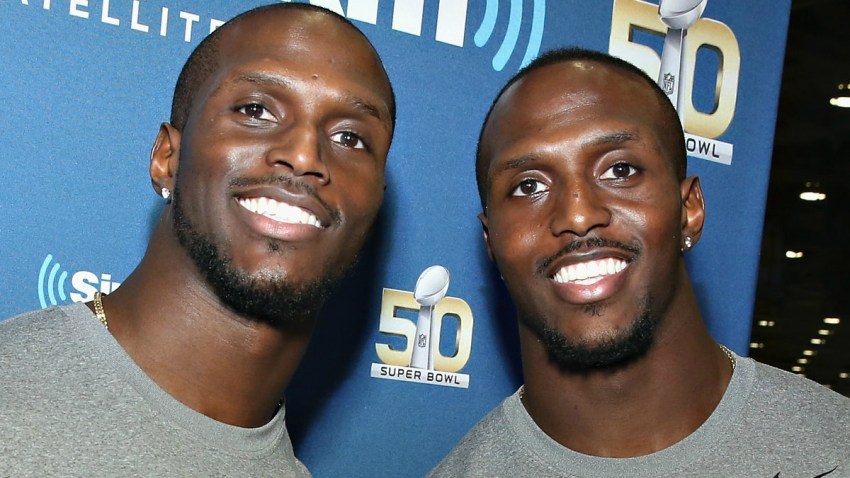 Think you know sets of twins who are impossible to distinguish?
In addition to sharing a Twitter account, identical twins Devin and Jason McCourty are so much alike that in 19 combined NFL seasons, neither of them has ever played in a wild-card playoff game.
It's true. Devin, entering his ninth NFL season — all with the New England Patriots — has enjoyed a first-round bye every year since being drafted in the first round in 2010. Jason, entering his 10th year in the league, spent the first eight seasons of his career with the Tennessee Titans. Those teams never made the playoffs, nor did the team Jason spent 2017 with... the Cleveland Browns, who managed to go 0-16 while Devin played in the fourth Super Bowl of his career with New England.
Local
In-depth news coverage of the Greater Boston Area.
If all goes as planned, that trend will continue this season. The Patriots are once again expected to seal up the division by late November and fend off any number of teams vying for one of the top two spots in the AFC and the bye week that comes with it.
Should each McCourty survive cutdown day on Saturday — and to be clear, Jason's status doesn't appear to be set in stone at this juncture, though the guess here is that he's on the 53-man roster — they'll have a chance to become the first set of twins to take the field for the same NFL team since before the Great Depression.
"It definitely is surreal," Jason McCourty said earlier in the preseason. "I think even in these moments, we don't really realize how special it is because you're focused on the game of 'what did you see, what adjustments were there.'"
The McCourty twins have always wanted to play together in the NFL, just as they did at St. Joseph Prep in Montvale, New Jersey and later at Rutgers University for three seasons (Devin redshirted at Rutgers in 2005, which is why he and Jason entered the NFL a season apart).
Devin hit free agency after the 2014 season, ultimately re-upping in New England on a five-year deal. He can recall the trade rumors that often linked Jason to the Patriots, but even when his brother was released by Tennessee following the 2016 season, he knew it was unlikely Jason would wind up in Foxboro.
Finally, in March, the timing was right. The Browns sent Jason to the Patriots along with a seventh-round pick in exchange for a sixth rounder in April's draft. Nearly 10 years after rocking red Scarlet Knights uniforms, the McCourty brothers would be in the same locker room once again.
"We've always been vocal about wanting to make this happen," Jason McCourty said. "Last year I was a free agent, we both voiced that we would love it but the timing wasn't right. This year it was right and we're excited to be able to be doing it."
"It's been cool, but I think the cool part now is that he's just turned into one of the guys here," Devin McCourty said of his twin. "It's not just Devin's brother; he's brought his leadership, his years of experience. It's been fun for us."
The McCourty brothers, of course, talked often during their near-decade apart. Nothing was off limits in their conversations as it pertained to football, though everything was always in confidence.
"We both knew a lot about each other's teams, even the stuff that probably guys would think we wouldn't," Devin McCourty said. "We're just that close. It's the one person for us that we've never had to worry where if I tell him this, and I don't want anyone else to know, we never worry about that."
In the Patriots' third preseason game last week vs. the Carolina Panthers, Jason could be seen taking snaps at safety — arguably New England's strongest position group, with Devin, fellow-Rutgers alum Duron Harmon and Patrick Chung mainstays on the back end of the defense. While he's played specials teams throughout his career, Jason has always been a cornerback first and foremost.
New England safeties coach Steve Belichick, who attended Rutgers with the McCourty twins, said that the position switch was just about seeing what Jason could do there.
"We try and give all our players an opportunity to showcase their talents and showcase their skills," Belichick said. "It's just like everybody else who played in the game, to have a chance to show what they can do."
It would be yet another thing the twins have in common, making the switch from corner to safety in their careers. It's easy to forget Devin was a Pro Bowl cornerback his rookie season with the Patriots before becoming a Pro Bowl safety years later.
Should each McCourty wind up in the safeties room during the regular season, cornerbacks coach Josh Boyer thinks the transition would be seamless.
"I would say they have a pretty good familiarity with each other," Boyer said. "They know how each other operates and ticks."
Plus, the near-sighted Boyer wouldn't have to worry about telling them apart anymore.
"I don't see so well from far away, so if they're 15, 20 yards away that can be a little tricky sometimes... or if their back is turned, that can be tricky," he said. "They kind of have that same walk and demeanor, but there's some subtle differences that you can kind of tell them apart."
To the untrained eye, it's nearly impossible to tell that Jason is an inch taller than Devin, standing 5-foot-11. Each player weighs in at 195 pounds, according to the team's official roster.
Perhaps Steve Belichick would relish the opportunity of having them both in the safeties room, given his background with them that long predates his addition to the New England staff.
"I've got my own techniques," Belichick said of telling them apart. "I'll let you guys figure it out."
The twins celebrated their 30th birthday on Aug. 13, a sign as sure as any that they're closer to the end of their careers than the beginning. Neither player appears in any rush for this particular chapter in their lives to fade away anytime soon, however.
"Obviously, coming here and having a sister-in-law and brother who has kids, we can come to their house and go 'hey, where's the nearest this, where's the nearest that, what do you guys do for this, when you go to the games, where do you park,'" Jason McCourty said. "Just any question you have, he's been here so long that you can ask him and he'll have the right answer for you."
"The most fun we've had, honestly, is off the field with our families," Devin McCourty said. "Hanging out, doing different things that we usually get to do in the off-season for a couple of weeks and that's it. Being able to do that now, that's a lot of fun."