Here are some updates from people with Boston ties who are experiencing Hurricane Irma from various locations in Florida:
Bostonians Share Scenes From Hurricane Irma
SUNDAY, SEPTEMBER 10:
Pauline Nassif: I reside in East Taunton, Massachusetts, and flew into Tampa last night to help my dad, George, who lives alone in Largo, Florida. I am a global studies educator in southeastern Massachusetts with a beautiful 26-year-old daughter who is back home in the Boston area and praying for my safe return. Her birthday is next weekend. We will definitely be celebrating when I return safe and sound. My father was discharged from the VA hospital on Thursday after spending a week there due to his fight with cancer despite my repeated requests to keep him in a safer location rather than be alone. He is an 86-year-old disabled veteran. After arriving last night, I was able to secure some gasoline for his truck but had some difficulty finding a gas station with a supply. This morning, I secured his home and packed some provisions and registered us with the local shelter at Largo High School. We settled in around 1:30 p.m. At this time, the shelter is very full but still accepting more residents. The way it is set up here is you basically find space in a classroom, floor space in the hallway, or if you are lucky to get to the gym, it is first come first serve. We were able to set up space in the gym where it is more open. They will serve us three meals to do their best to keep us safe and keep order. Now that I have settled my dad in, I will look to help volunteer. UPDATE: We are well. Left shelter. Home at dad's house. Trees down, no power. Brought an elderly lady home with us who is without family. Am hoping to get this woman Dorothy settled at her home or with her husband in the hospital. Then to convince dad to fly home with me until all services are restored here.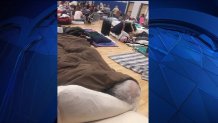 Eve Garvey: Originally from Framingham and later Medway, now living in Lake Worth, Florida here. I grew up in metrowest and worked for IDG in Framingham after graduating from Bentley. We have our hurricane shutters in place and are riding out the storm in our home. We have prepared our safe room and despite long lines and low inventory of supplies are stocked up for the duration - whatever length of time it may be. UPDATE: It was a long 24 hours here in Lake Worth, Florida. We lost power, phone and internet around dinner time last night and it just came back! The gusts turned out to be much stronger than they thought and I believe we had gusts approximately 91 to 100 mph. We were very happy to wake up this morning to find little damage to our property with the exception of our fence and neighbors downed tree limbs. The most important thing is that we are all fine. I have not been out of my neighborhood yet but hear others didn't do so well - foof damage from trees coming down and areal flooding. We were very lucky that we had time to prepare and although I haven't been a big fan of Governor Scott he was amazing with his leadership. I am thankful for all of the first responders that put public safety first.
Jonathan Gravato: I was born in Salem, Massachusetts, and lived in Peabody until I was 19. I moved to Central Florida, where I became a graduate at the University of Central Florida. My fiancée, Pamela Bendezu, and I live in Casselberry, Florida, which is just north of Orlando. We live in a single floor condo about 56 to 75 feet above sea level. We are inland, so we do not anticipate storm surge, but we do have a lake - Lake Howell - which is about 1,000 feet southeast of us. We are pretty prepared, wish we had more ice, but all in all we are prepared with food, water, the comforts of home and some books. Just lost power an hour ago. We just got reports that the track is now shifting northeast toward the I-4 corridor. It sounds like someone is having a basketball game on our roof. Hearing the news of the shifting track is very concerning, but at this point, I'm like "bring it on." We are shut in, bottle of tequila on the table, ready to hold it down.
Bethany Kolenda: I'm 26 years old and I'm from Amesbury, Massachusetts. I moved down to Florida three years ago with my parents and my sister. The rest of my family still lives in Massachusetts and New Hampshire. Right now my family and I are staying on Marco Island and we do not plan on leaving. Made it through the eye of the storm... lots of damage.
Local
In-depth news coverage of the Greater Boston Area.
Lisa Fidler: My husband and I, both originally from Charlestown, then Newburyport, are hunkering down in Bonita Springs. Storm is still four to five hours away.
Cathi Marro: I was raised in Newton, Massachusetts. I still have family in Massachusetts. I moved to Miami in 1990 and I've experienced several hurricanes including Andrew in 1992. Everyone inside my house is fine. We lost cable and Internet. A small tree landed on our fence and the whole mess is leaning on my husband's car, but we think it will be OK. There's lots of debris on the ground. It's currently raining and lots of wind, which is getting a bit noisy. Power was lost in our neighborhood but we have power from our solar panels. Our air conditioning, however, is out because it runs off FPL (the local power company). Hoping for the best from here on out. UPDATE: I had no communication for almost 24 hours. We just got WiFi and cell back. We are OK. Apparently they tried to turn the power back on in my neighborhood. We saw sparks out the window. We are all (in my house) safe. No major damage or injuries. No flooding.
Willie Lebron: I moved down to Florida about six years ago. Spent most of my life in the Boston area, especially East Boston. Lived in other areas but that is where I am from. Right now sitting in my house waiting on the storm. Possibility that eye of storm will cross right over us. Scary but exciting at the same time. Have taken some videos just to show situation. Right now not that bad, do have wind gusts approaching 40 mph. Sustained wind right around 20 to 25 mph. I live in a good area of Cape Coral. Not on the mandatory evacuation zone but by the end of the storm we might be an island, as most of the areas around us are in mandatory evacuation zone. Here with my daughter, her three kids, my sister and her daughter's children and husband. Have stepped outside a few times just to feel the weather. Windy and windswept rain. Being in Florida you would believe it would be a warm rain but it's a cold rain.
Rachel Le Blanc: I'm from Newburyport, Massachusetts, grew up on Plum Island, specifically - weathered many a storm there. I've lived here in Port Charlotte area now for 12 years - moved here right after Charlie. Everything is as locked down as it can be. The house has been boarded up, I have plenty of water, gas and a generator. I've got the safe spot - which is the master closet in my home - all ready to go. I've got the truck loaded with a bag of clothes, food for my dog, water, tools and first aid in case emergency evacuation is needed. So far it's just windy and rainy nothing new for Florida. Supposed to start taking the worst of it around 3 o'clock and through the night.
Janet Messcher: It started raining lightly at 7 a.m., now steady with a slight breeze. Same forecast as when I went to bed - expect tropical force winds around 3 a.m., near hurricane winds and the eye to pass about 50 miles west of here between 5 a.m. and noon, with winds dying to tropical strength. Daisy dog and I took advantage of the quiet weather to check out the Suwannee. Passing the time with a homemade Dunkin's regular and puzzles. Steak tips on the grill for dinner and watching the clouds race in from the north and northeast. The winds are picking up a little. Still a gentle rain. Starting to get dark as sunset nears. Winds still coming from NNE and are tropical strength now. Lots of limbs and leaves scattered all over. UPDATE: We are good. Quite a few trees down but no property damage. We just finished removing the two trees that blocked the driveway out. Now, we hooked the generator to the fridge. No power since 1:30 a.m. I saw a lineman checking wires while we cleared debris but we don't expect power soon.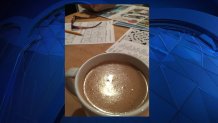 Whitney Roberts: I'm staying in Lakeland, Florida, during the hurricane. I'm originally from Haverhill, Massachusetts, and moved to Florida in 2004. This will be my fifth hurricane to ride out since moving here. Currently sitting on my back patio having hurricane drinks and waiting for winds to pick up more.
Tim Greenwood: I'm originally from Ipswich, Massachusetts. I went in the Army in 1992 and I was a broadcast journalist. I moved to Haines City, Florida, in 2014. Currently, the hurricane looks like it will go right over us on Sunday night. I have everything boarded up. The house is less than two years old. We prepared for a week - water, canned food, batteries, etc. Currently in a tornado warning. One hour from it hitting us head on. Lots of rain. Winds picking up.
Kevin Santos: I live in Cape Coral, Florida. My dad, my brother and most of my aunts and uncles live in Massachusetts. So far it is not too bad here, we have power and internet, we got a lot of rain and some wind - maybe 50 mph gusts. We will be OK here - we have our hurricane shutters on and are not in a flood zone. UPDATE: I am not in a flood zone, I did not lose power, but I did lose cable and internet. I lost most of the screens on my pool cage and a few branches on the trees around. We are all fine - no damage to the house. I took my hurricane shutters off today.
Ursula Garland: Formerly of Manchester, New Hampshire, moved to Florida in 2003. Will not evacuate, as I am a nurse and my husband Ed works for the state. Two tornadoes have touched down eight miles away. Power sporadic.
Linda Bresnahan: I currently live in Davenport Florida. I grew up in Walpole, Massachusetts, and just moved here two years ago. As a Disney cast member I have today and tomorrow off. I have non perishable food, lots of water, batteries, flashlights, all the essentials. Our windows are taped up. The hurricane is projected to head more west. As of right now, we still have power and everything is a-okay!
Sydney Marchand: I moved to Orlando, Florida, a month ago. I was born and raised in Attleboro, Massachusetts, however, my boyfriend and I have family throughout Florida. Right now while the storm is just hitting southern Florida, here in Orlando we have sandbags at our sliding door and we are charging our phones just anticipating the storm. We live here off of International Drive and there is only one WaWa store open and everything else is closed today. At the moment we are only experiencing light rain and mild winds. UPDATE: We are alive and well. Our building has a lot of damage here in Orlando off of International Drive at the Enclave. Debris from the building has hit vehicles parked here and done some damage. Police are driving through International Drive telling people to get back inside and there is a curfew here till 6 p.m.
Richard Rossi: I am from Southboro, on vacation in Ormond Beach, Florida, where I recently bought a house. Nothing much happening yet in Ormond Beach, expected to hit later tonight. Wind is 27 mph. We are a block off the beach at my friends house, mine is down near the intracoastal, I haven't moved in yet. I am retiring in January and moving down, God willing!
Joanne Sweeney: I'm from Danvers. I worked for Verizon for 30 years before moving here 12 years ago. It is truly a gorgeous place to live. We're now living in Venice, 20 miles south of Sarasota. It appears that the eye of the storm is going to pass over or extremely close to us in about 8 to 10 hours. It's raining pretty hard right now. We've heard from friends in Naples and Fort Myers that they've lost power, so we expect to lose it soon.