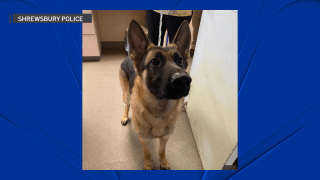 Police are asking for the public's help finding the owners of a dog that was found abandoned in Shrewsbury, Massachusetts, on Sunday morning.
The dog was found tied to a bench by his leash near the Christmas Tree Shops store at a shopping center on Boston Turnpike (Route 9), Shrewsbury police said. Someone reported seeing the dog's owner get into a taxi.
The dog is neutered and wearing a black collar with a chain-style leash attached, but has no microchip, according to police.
They shared an image of the dog, which is being held at the Worcester Animal Rescue League, but said it's not up for adoption while they search for the owner or owners.
Anyone with information about the dog is asked to call Shrewsbury police at 508-845-4681 or Shrewsbury Anima Control at 508-841-8421.