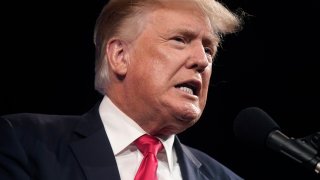 Former President Donald Trump is scheduled to speak at a New Hampshire Republican State Committee fundraiser on Saturday as he continues to gear up for another presidential run in 2024.
Trump, who has already announced he is running, will be the keynote speaker at the state committee's 2023 Annual Meeting in Salem.
"We are excited to welcome President Trump back to the Granite State to be the keynote speaker at our 2023 Annual Meeting," Chairman Stephen Stepanek said in a statement Monday. "President Trump has long been a defender of New Hampshire's First in the Nation Primary Status and we are excited that he will join us to deliver remarks to our Members."
Due to increased security, Stepanek said the annual meeting will only be open to credentialed state committe members and invited guests.
The New Hampshire Democratic Party issued a statement Monday calling Trump's record in New Hampshire "abysmal."
"Not only did he lose in New Hampshire in both previous presidential races, but all of his endorsed candidates in the Granite State lost by staggering margins in 2022," the statement said.
Trump did win the 2016 Republican New Hampshire primary, his first election win, but he lost the general election vote in New Hampshire in that year and in 2020.