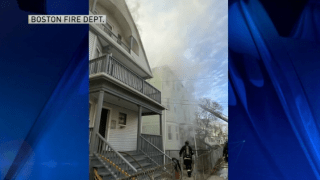 A dozen residents have been displaced after a fire burned through a multi-family home in Dorchester Saturday morning.
Firefighters responded to the home on Nightingale Street around 7:45a.m. on Saturday.
According to the Boston Fire Department, the 4-alarm fire caused the rear porches of the multi-family home to collapse and brought down the power lines behind the home. The blaze also caused damage to the house next door.
Two firefighters suffered minor injuries, according to the Boston Fire Department.
Heavy fire was knocked down around 8:30a.m., the Boston Fire Department tweeted.
The cause of the fire remains under investigation.