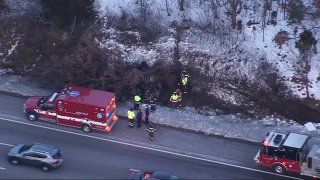 A Boston man was killed Wednesday afternoon after going off a highway and crashing into a tree in Randolph, Massachusetts, police said.
The driver has been identified as 20-year-old Isbraham Rosa, according to police. He was the only person in the car and was pronounced dead at the scene.
Firefighters responded to the crash site on the northbound side of Route 24, near the onramp to Interstate 93, about 3:50 p.m., according to Massachusetts State Police.
The driver is believed to have lost control while shifting lanes at a high speed.
The right lane was closed for three and a half hours after the crash, police said.
The crash remains under investigation by Troop H of the Massachusetts State Police with the assistance of the State Police Collision Analysis, Reconstruction Section, State Police Crime Scene Sevices Section and the H Troop Detective Unit.