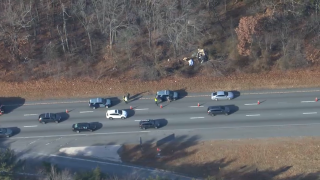 UPDATE (Tuesday, Dec. 28, 2:18 p.m.): State police identified the driver as Manny Roman, a 47-year-old from Attleboro.
A driver died when their car crashed on Interstate 95 in Mansfield, Massachusetts, on Thursday, police said.
The crash took place on the northbound side of the highway, before Exit 12, just before 11:40 a.m., Massachusetts State Police said.
The car, a Honda Accord, crashed into the median and hit several trees, police said. The driver, who wasn't identified beyond being a 47-year-old man from Attleboro, was the only person in the car and was found dead at the scene of the crash by paramedics.
Aerial footage showed the vehicle ended up in the wooded median on the left side of the highway. Two lanes of the road were closed as first responders attended the scene.
Police are investigating.