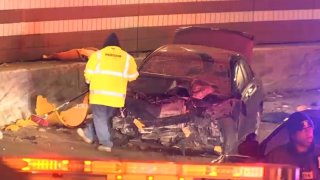 An East Boston man is being charged with drunk driving after a crash at the south entrance of the Sumner Tunnel in Boston Monday morning.
Eric Hernandez, 39, was driving a 2010 Toyota Corolla when he struck several sand barrels that had been put in place in front an attenuator as a crash guard around 2:30 a.m. The car then rolled over near the split for Government Center/I-93 north and Storrow Drive.
Hernandez was taken to Massachusetts General Hospital via ambulance with non-life threatening injuries. The Corolla sustained substantial front end damage.
Following an investigation by state police, Hernandez will be charged with operating under the influence of liquor, unlicensed operation of a motor vehicle, and operating after license suspension or revocation. He has been mailed a criminal summons for the offenses.
Both lanes were closed for approximately 30 minutes. Traffic was being diverted to Storrow Drive while the Government Center exit remained closed. The scene was cleared at 4 a.m.