A 27-year-old woman was killed but her two young children are expected to be OK after their SUV crashed into a parked vehicle in Groveland, Massachusetts, late Monday night.
Alyson Spence, of Rowley, died following the crash, according to authorities. Her 6-month-old and 2-year-old children who were in the backseat were not seriously injured.
The children were both conscious and alert and left the scene of the crash with a family member, Groveland Fire Chief Robert Valentine said.
"She is my world, and I cannot imagine living life without her," Alyson's husband, Ray Spence, said Tuesday. "Right now I'm feeling lost. My wife of five years is no longer with me."
"She was an amazing mother to those children. She had a heart of gold," he added. "She loved her kids beyond belief. This has taken all of us by surprise, and it hurts a lot because she was such an amazing person."
Police said Alyson Spence was driving a gray SUV near 123 School St. when she crossed over the center line and hit a parked SUV just before 11 p.m. Monday.
Her husband said she was on her way home with their two children in the back seat at the time of the accident.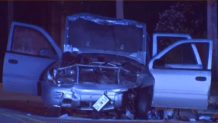 First responders pried the driver's side door open and began administering aid to Spence, who was unconscious when they arrived. She was taken to Lawrence General Hospital with serious injuries and later pronounced dead.
Police found the gray SUV with heavy front end damage facing the wrong way in the southbound lane of Route 97 and the second SUV with heavy front end damage facing the wrong direction in the northbound lane.
"I tried calling her phone. That's when the cop answered the phone, he told me what was going on, and I immediately flew down to where she was," Ray Spence said.
It is unclear if there were medical issues related to the incident. The Massachusetts State Police Collision Recon Team is helping Groveland police with the investigation.
"We don't know what happened. I don't know what happened," Ray Spence said. "I couldn't imagine this day in my entire life."