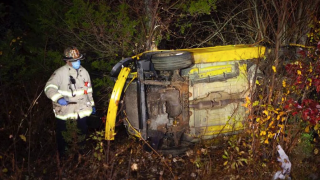 A driver was injured following a rollover crash in Sterling, Massachusetts, on Thursday morning.
Emergency crews responded to the single-car crash on Interstate 190 just before 6 a.m.
Stay informed about local news and weather. Get the NBC10 Boston app for iOS or Android and pick your alerts.
Crews worked to pull the driver from the sunroof, according to the Sterling Fire Department. The driver was taken to a nearby hospital.
There was no immediate word on the cause of the crash.
No additional information was released.