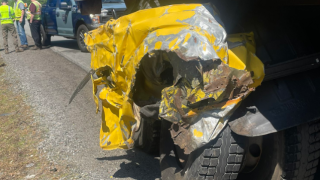 A dumpster truck crashed with a Massachusetts Department of Transportation pickup truck on Wednesday morning in Framingham, according to state troopers.
The crash happened on the eastbound side of the Mass. Pike, and was reported by state police at around 11:15 a.m.
The driver of the pickup truck was being evaluated for possible injuries, Mass. State Police said.
Additional details were not made available.