There was another push Monday night to find East Boston resident Reina Morales Rojas, who has been missing since the end of November.
Community members and activists rallied outside of the police station in East Boston, calling on the Boston Police Department to ramp up its search efforts with more resources.
It's been 79 days since Rojas was last seen.
"She's an immigrant. She's a Latina woman. They don't care," said Lucy Pineda, executive director of Latinas United of Massachusetts. "I have sent four emails, and they ignore it, they have not said anything new."
"Unfortunately, a lot of us already know what happens when a person of color goes missing in the United States, and Massachusetts is unfortunately not an exception. We need to change that," said Manuel Teshe, a legislative aid for the Massachusetts House of Representatives.
The group also called attention to Boston Police waiting more than a month after Rojas was first reported missing to push out a public alert.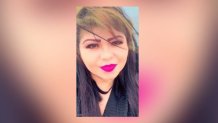 "We're going to keep coming out until they find her and let them know that next time another person goes missing, they have to act the very next day," said Teshe.
Rojas was last seen on surveillance video Thanksgiving weekend when she left her apartment on Bennington Street and got dropped off in Somerville.
The Boston Police Department announced her disappearance on Jan. 12. Massachusetts State Police and Somerville Police are also involved in the investigation.
"I feel that if a person goes missing, the very next day, we should have everything, all the forces available moving to make sure we find that person," said Teshe. "We're talking about lives here."
A spokesperson for the Boston Police Department told NBC10 Boston over the phone that the investigation is still active and ongoing, and due to this, information that can be released to the public is limited.
The spokesperson added that cases are always investigated regardless of ethnicity and immigration status.
The department said it would try to provide a new statement, but so far, it has not.