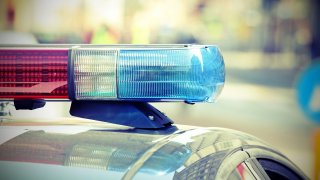 Police in Dartmouth, Massachusetts, are asking for the public's help finding whoever is responsible for hateful vandalism that was discovered this weekend.
Dartmouth police say officers responded to the Burgo Basketball Association facility, located at 101 Slocum Road, around 5 p.m. for a reported hate crime and found a derogatory term had been spray-painted on a dumpster.
There are no suspects at this time, and the police department is requesting assistance from the public in obtaining any information or video footage from the area that could help them in their investigation.
Police Chief Brian Levesque said in a statement that he was extremely discouraged and upset by this "egregious and heinous act of vandalism."
"It is certainly the hope of every member of the Dartmouth Police Department that if someone has information that can help us identify a suspect that they will immediately come forward with it," Levesque added.​
Anyone with information is asked to contact the Dartmouth Police Department by calling 508-910-1735. Anonymous tips can also be submitted by using the department's Tip411 system.