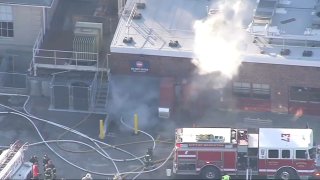 Elective procedures at Signature Healthcare Brockton Hospital have been canceled through Friday, after a fire broke there on Tuesday, impacting power at the facility.
More than 70 ambulances showed up Tuesday to transfer about 160 patients evacuated from the hospital, after losing power following an electrical transformer fire. The power was said to be shut off for safety reasons.
"We are removing some critically ill and injured patients," Brockton Fire Chief Brian Nardelli said at a morning news conference.
The Massachusetts Emergency Management Agency said about 160 patients were affected. Firefighters said 77 ambulances assisted in relocating them.
Patients were still being taken to other hospitals "and we are evaluating patient care plans" as of Tuesday afternoon, the hospital said in a statement on its website. It was unclear when power would be restored.
All elective procedures are canceled through Friday, the statement said.
A message seeking comment was left with a spokesperson.
There were no injuries reported in the fire. Temperatures were in the high 20s (about minus 2 degrees Celsius).
Nardelli said the hospital's emergency generator, which was supplying power to the building, had to be shut off so the fire could be put out.
Signature Healthcare is a 216-bed hospital. Brockton is about 25 miles (40 kilometers) south of Boston.
People with loved ones in the hospital who need more information can call 617-370-5971.
Copyright AP - Associated Press