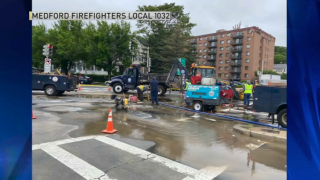 Emergency crews worked throughout the day Sunday to repair water main break on Route 28 in Medford, Massachusetts.
Police and fire crews responded to the intersection of Fellsway and Salem Street early Sunday morning where there appeared to be an active leak and flooding. Authorities have shut down part of the road to work on repairs.
Around 3:45 p.m., authorities advised people to continue to avoid the area, as crews continued to work on the break nearly nine hours after it was first reported.