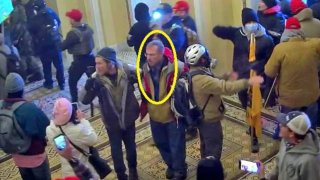 A former Boston police K-9 officer was arrested Thursday on felony and misdemeanor charges, including assaulting a law enforcement officer during the Jan. 6, 2021, attack on the U.S. Capitol, according to the FBI.
Joseph R. Fisher was taken into custody at his home in Plymouth, Massachusetts, the agency said.
He faces eight charges in all, including obstruction of law enforcement during civil disorder, assaulting, resisting, or impeding certain officers or employees, and additional charges for disorderly or violent acts on Capitol grounds.
According to NBC News, a current Boston police officer who knows Fisher identified him after surveillance images and video footage showing him inside the restricted perimeter of the U.S. Capitol were uncovered. Some of the images showed Fisher "wearing a beanie with the logos of several Boston sport teams," according to court documents obtained by NBC News.
Cell phone records also showed that Fisher was inside the Capitol on that day.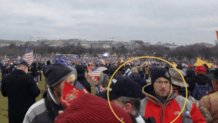 CCTV footage obtained from Capitol police showed Fisher entering the Capitol around 2:24 p.m. on Jan. 6. He was captured on video in multiple areas of the Capitol over the next 15 minutes.
Around 2:39 p.m., he was seen pushing a chair into a Capitol police officer as the officer was pursuing a rioter who had just deployed pepper spray. A minute later, Fisher engaged in a physical assault against the officer, which ended with Fisher on the ground and out of the camera frame.
"Investigators verified with the U.S. Capitol Police that the Victim physically assaulted by Fisher is a U.S. Capitol Police officer and obtained the Victim's identity," an FBI affidavit said. "Investigators subsequently interviewed the Victim, who positively identified himself as the officer in the yellow vest, and recalled being hit with a chair. At the time of the interview, the Victim was unable to recall who had hit him with the chair or the specifics of the altercation with Fisher."
Fisher was then seen exiting the Capitol around 2:42 p.m.
About 1,000 people have now been charged in connection with the Jan. 6 attack, including 22 from the Greater Boston area.