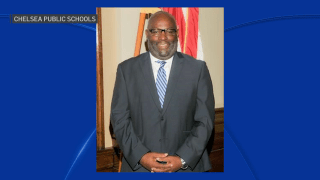 A former member of the Chelsea School Committee on Thursday pleaded guilty to raping a child in 2021 after offering them a ride, prosecutors said.
Henry Wilson was sentenced to five years in prison for the charge of rape and five years of probation after he's released for pleading guilty to charges of enticement and posing a child in sexual conduct, the Suffolk County District Attorney's Office said. Wilson was also ordered to register as a sexual offender and not have contact with children unsupervised, among other things.
Wilson, 57, sexually assaulted the child in his car that was parked in a parking lot after picking the victim up on Broadway June 28, 2021, prosecutors said. Some of it was recorded on a cellphone camera.
Resources for victims of sexual assault are available through the National Sexual Violence Resources Center and the National Sexual Assault Telephone Hotline at 800-656-4673, and Massachusetts provides this list of statewide and resources for sexual assault survivors.
The child's family contacted Chelsea police after finding out about the assault days later, which led to Wilson's arrest.
"This case involves multiple levels of abuse, including Mr. Wilson abusing his status as an adult and his status as a person of authority, particularly a person of authority over school children. But more than anything else it involves the abuse of an innocent child, and Mr. Wilson now knows the consequences of such conduct," District Attorney Kevin Hayden said in a statement. "The courage of the victim and the victim's family was crucial in moving this case forward."
Rachael Rollins, who was district attorney at the time Wilson was charged, said at the time that Wilson and the boy were not known to each other, and the assault is alleged to have happened once.
After his arrest, Wilson was barred from Chelsea Public Schools and from contacting students. He was also investigated for allegedly having an inappropriate relationship with a student, the school district said at the time. District officials didn't provide more details about the inappropriate relationship Wilson was accused of having.
"District officials are cooperating fully with the District Attorney, Chelsea Police Department and other agencies involved in the investigation," Chelsea Superintendent Almi Abeyta said in a statement then.
Wilson joined the Chelsea School Committee in 2018, and before that was a youth mentor for the district's students as well as a member of the Chelsea Planning Board and Zoning Board, according to a biography that had been posted on the district's website, which also said he'd received several community awards.
"He's volunteered with youth before, he's worked in positions where he's around young people and to have allegedly engaged in this behavior, it's deeply, deeply disturbing," Rollins said at the time.