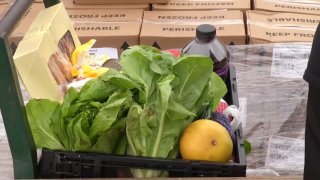 The federal government has ended a program that was offering extra Supplemental Nutrition Assistance Program (SNAP) benefits to those in need, but Massachusetts is stepping in to offer some extra help for a few more months.
About 630,000 families in the Bay State were getting extra SNAP money from the federal government, a form of COVID-era emergency assistance, on top of their regular benefit allotment, but the last of those payments went out at the start of March.
On average, the SNAP emergency allotment has added an additional $151 to a household's normal monthly benefit of $335 in Massachusetts, according to the Department of Transitional Assistance.
To help families adjust to the ending of the program, Gov. Maura Healey has signed off on a supplemental budget that includes $130 million for state-funded supplemental SNAP payments for the next three months.
The state benefits kick in on April 7 and will be available at the start of April, May and June, based on eligibility determined off the previous month. The payments will be up to 40% of the difference between a household's maximum benefit amount for its size and the regular monthly benefit amount, with a minimum at $38 a month.
"We have heard from many families on how vital the federal extra COVID SNAP benefits have been in Massachusetts to help buy food that met their nutritional and cultural needs. These extra state-funded payments will be a critical offramp to the federal benefits," Acting DTA Commissioner Mary Sheehan said in a statement.
More information about how the program works is available at mass.gov/extraCOVIDSNAP. Residents are also encouraged to report anything that may increase their regular SNAP benefit allotments, such as medical costs, increases in housing costs, and any child or disabled adult care costs.
Local
In-depth news coverage of the Greater Boston Area.
Other resources for Massachusetts residents struggling financially include:
Community Food Resources: call or text Project Bread's FoodSource Hotline, 1-800-645-8333
Massachusetts households who receive SNAP benefits can automatically participate in the Healthy Incentives Program (HIP). HIP puts money back on an EBT card when SNAP is used to buy local fruits and vegetables from HIP farm vendors, up to $40, $60 or $80 a month depending on household size. Find a HIP vendor at DTAFinder.com
If you have children under age 5/are pregnant or breastfeeding, you may be eligible for the WIC nutrition program: Mass.gov/WIC or call 800-942-1007
• All K-12 students can get free school meals this school year
Rent or mortgage help: Call 2-1-1 or go to Mass.gov/covidhousinghelp
Fuel Assistance help paying for heat: go to Toapply.org/MassLIHEAP or call 800-632-8175
Money to help pay for the internet or a computer: GetInternet.gov, AccedeAInternet.gov
Get help with 2022 taxes and any COVID stimulus or Child Tax Credit money you are owed: FindYourFunds.org
If you have children/are pregnant and have no income or low income, you may be able to get TAFDC cash benefits. If you are 65 or older or disabled with no or very low income you may be able to get EAEDC cash benefits. Learn more/apply: DTAConnect.com