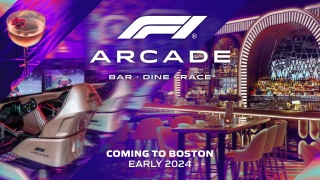 Formula 1 has announced that it will be launching its first US-based F1® Arcade venue in Boston in early 2024.
The venue, which will be in a redeveloped area of Boston's Seaport, will be the first of 20 permanent venues in the U.S. over the next five years.
The F1 Arcade will cover 16,000 square feet and will have 69 racing simulators designed especially for the venue, as well as similar accommodations to grand prix races across the world.
The arcade gameplay experience will vary from racing individually, in teams or a race between everyone in the venue. There are also different modes available for all ages and skill levels.
F1 has seen significant growth in interest in the United States with over 250,000 people at the Formula 1 Crypto.com Miami Grand Prix 2023.
"Formula 1 is enjoying significant growth globally, and we are constantly innovating to ensure that we are bringing the highest quality of sport and entertainment to new and diverse audiences. F1 Arcade does exactly this by putting our fans behind the wheel of bespoke racing simulators, so they can feel the thrill of an F1 car first hand, coupled with a premium hospitality offering to match our world-renowned paddock. The success of the London venue so far has been incredible, and we are excited to see the F1 Arcade project continue to grow as it hits the US, starting in Boston." said Stefano Domenicali, President & CEO of Formula 1.