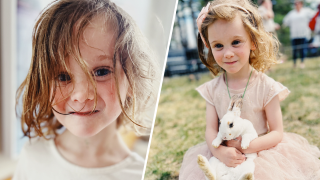 The family of a 5-year-old girl who was fatally hit by a truck while crossing a street in Andover, Massachusetts, established a scholarship fund in her honor.
The fund in honor of Sidney Mae Olson was established at SHED Children's Campus in Andover to provide an option for those wanting to help the family and the community.
The statement from the Olson family says that donations will be used to fund enrollment to the school's "curiosity-based" education for those who can't afford it, including pre-K and kindergarten.
You can donate directly at the programs' website here.
"We're grateful for the outpouring of love and support for our family and friends after the tragic death of our bright-eyed, five-year-old daughter, Sidney. Many in the community have asked how they can help, and this is exactly what our daughter would want you to do." said Eric Olson and Mary Beth Ellis in a statement.
"In her spirit of boundless love and inclusion, we hope this fund provides opportunity to children who might not otherwise have it – and that it adds rich diversity to the SHED community for years to come." they added.
Sidney was among a group of people at the intersection of Main Street and Elm Street in the crosswalk near Elm Square, when the crash, involving a tractor-trailer, took place around 5:15 p.m. Tuesday, officials have said. The child was pronounced dead at the scene, state police said.
Sidney's family said they were walking to an art class when the crash took place — the girl and another member of the family were in the crosswalk with the walk sign showing, following a route they've taken "hundreds of times before."
The Essex County District Attorney's Office told NBC10 Boston the investigation into the crash remains ongoing.
More on the deadly Andover crash