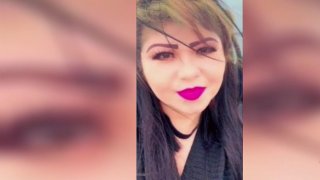 One family is praying for the return of an East Boston woman who has been missing since November.
Reyna Morales Rojas, a Salvadoran mother was reported missing on Nov. 26 in East Boston. Her family says they are praying for her return so she can join her children in El Salvador soon.
Morales Rojas has two children in El Salvador and they do not stop asking about her mother, the family says. Morales Rojas' sister says that all this is very strange, because she talked to her sister every day - even the day she disappeared they had a long conversation.
Morales Rojas communicated daily with her family in El Salvador. A video was sent to her sister to let her know that she was working at Logan Airport in Boston.
"It is something that hurts us as a family," said Alicia Morales, her sister.
The last time Alicia spoke to her sister was on Nov. 26, the same day she disappeared after getting into a silver van, which took her from East Boston - where she lived - to Cambridge. It was around 9:30 p.m.
Police say that the last time they saw her she was getting out of a vehicle on Allston Street in Somerville. She was wearing a black shirt and pants, a gray sweater and was carrying a bag.
Local
In-depth news coverage of the Greater Boston Area.
Morales Rojas case has the Salvadoran community very moved. Everyone is praying for this mother to return to her family.
The consulate of El Salvador, the state police and the Middlesex prosecutor's office are working on this case.