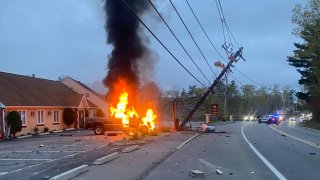 A fiery crash has shut down a portion of Route 16 in Mendon, Massachusetts, on Friday morning.
The crash was reported around 6 a.m. by Mendon police. They said Route 16 (Uxbridge Road) was closed between Thornton Street and Hartford Avenue West. Motorists are urged to expect delays and avoid the area if possible.
A photo shared by police showed a pickup truck that appeared to have struck a utility pole consumed in flames, with a pillar of black smoke extending into the air.
There was no immediate word on injuries.
No further details were released by police.