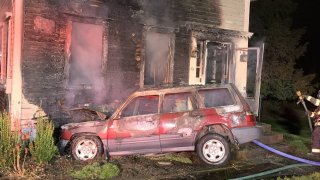 A vehicle that crashed into a home in Southboro, Massachusetts, caught fire early Saturday morning, sending two people to the hospital.
The fiery crash took place at a house on Framingham Road around 1:30 a.m., Southboro Fire Department said.
The fire had already spread into the first and second floors of the house after engulfing the vehicle by the the time the firefighters arrived, officials said.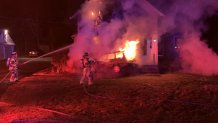 Firefighters extinguished the fire within half hour with help from the Marlboro and Westboro fire departments.
Officials said the driver and passenger suffered serious injuries and were transported to the hospital. While the building's residents safely escaped without any injuries, they were displaced because of damage from the fire.
No other information has been disclosed, and officials didn't say how they believed the crash happened. The crash remains under investigation.