Two buildings suffered major damage and three others were also impacted by a fast-moving fire Monday in Salem, Massachusetts.
Security cameras captured the moments a massive fire broke out at a home on Hancock Street. People could be heard trying to alert the residents inside to escape.
"I just heard everyone yelling 'Get out, get out,' banging on the house, 'There's a fire,'" said neighbor Tyler Carlton. "After that, everyone that was in the house coming out, all the dogs, all the people."
About 10 people live in the three apartments in the building where the fire started.
"I just feel lousy," said Margie Mullin. "I've had the house almost 50 years."
Everyone inside escaped, along with their pets.
Mullin says she had no time to take anything at all.
"Somebody yelled on the third floor on the back porch and they said 'Fire,' and I just left, left the house," said Mullin.
Local
In-depth news coverage of the Greater Boston Area.
Scott Sanders also made it out.
"I was taking a nap in the middle of doing laundry," he said. "I woke up coughing, I looked out the back door, I saw smoke, flames were too much, I grabbed my dog and out we went."
The flames overtook much of the building before firefighters pulled up.
"The wind was one problem," said Salem Fire Marshal Peter Schaeublin. "But the other we have, you can see all the buildings are right on top of each other. The heat coming from one building gets the other buildings going, as well."
The building where the fire started and the two-family house next door appear to be total losses.
Three other buildings were also impacted by the flames and smoke.
"My cat wouldn't come out when we evacuated, so he's still in there," said Kristen Homan. "I'm hoping he's hiding safely and will be OK when we're finally able to get back in."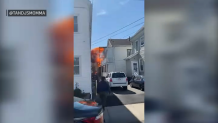 Hancock Street is south of Salem's historic downtown.
The plume of smoke from the blaze was appearing on NBC10 Boston's radar.