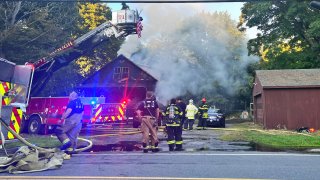 A fire at a building in Northboro, Massachusetts, sent smoke high into the air over the MetroWest town Saturday evening.
Firefighters confirmed they were battling a blaze on Whitney Street near Treetop Circle, and said everyone in the building got out safe.
"Avoid the area if possible!" the department wrote in a Facebook post soon after the fire was reported about 7 p.m.
One firefighter was treated for heat exhaustion during the incident, but no other injuries were reported. The cause of the fire remained under investigation Saturday night, officials said.
Firefighters from Westboro were seen helping to put out the flames.