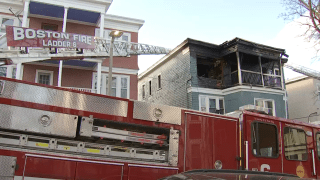 Boston Fire Department crews worked to put out a fire Sunday at a triple decker in the city's Mattapan neighborhood.
When firefighters arrived on scene, they saw fire showing from the porch on the third floor of the home. Everyone got out of the building.
Boston fire was able to quickly knock down the fire on the outside of the building, and then extinguished the flames inside.
"There was a heavy amount of fire when we showed up," District Chief Doug Smith said. "But it hadn't extended to any other buildings."
Boston fire notified the Red Cross, noting that there was $150,000 in estimated damages and nine people possibly were displaced.