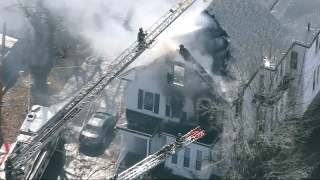 Firefighters are working to put out a fire in a home in Holbrook, Massachusetts, that was sending smoke into the sky above the Boston suburb.
The fire was in a home on Union Street, and the Holbrook Police Department warned the public to keep away from the area.
Aerial footage showed firefighters on a ladder putting out the flames, which had destroyed part of the roof.
There was no immediate word on whether anyone was hurt in the fire.
This developing news story will be updated when more information is available.