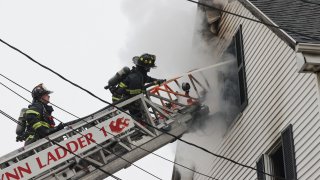 Firefighters battled a blaze in a building on French Street in Lynn, Massachusetts, on Thursday morning and say they rescued a dog during the call.
Lynn fire officials said the fire is in a 2-1/2-story wood-framed home at 8 French St. and was reported around 11:15 a.m.
Smoke could be seen billowing from the home as crews on ladder trucks worked to contain and extinguish the fire. Lynn Fire Chief Stephen Archer said no injuries have been reported.
No other details were immediately available.