Firefighters knocked down a blaze in a home in Weston, Massachusetts, on Tuesday morning.
A couple who live in the home, on South Avenue, were saved when a retired firefighter ran to bang on their door and wake them up, while a good Samaritan driving by saw flames and called 911, Weston fire Chief David Soar said.
The house is a total loss, he added.
"Two minutes, two minutes. Within a minute, we were out. Everything can go in a second," said Nagy Mikael, one of the homeowners who escaped the fire. "It's just a blessing from God that we are alive."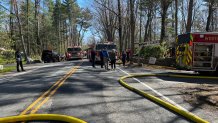 The fire was reported around 8 a.m. The Weston Fire Department said South Avenue, also known as Route 30, was shut down between Brown and Winter streets due to the fire.
Right now, it's believed the fire started in the back of the house, outside on the deck. The cause remains under investigation, but the couple did reportedly just wrap up some major kitchen renovations.
Fire departments from several neighboring communities also responded to the scene. Firefighters were still at the scene as of 11 a.m., and several roads remained blocked off.