Over a dozen residents were left homeless following a fire in Lynn, Massachusetts, on Monday morning.
The fire was reported around 10:45 a.m. in a multi-family building at 77 Chestnut St.
Fire officials said the fire started on a porch and then spread to a second building at 73 Chestnut St. Aerial footage showed heavy flames and smoke coming from the roof of a large, multi-story building.
"Luckily the fire station, Fayette Street Station, is right down the street," Lynn Fire District Chief Joseph Zukas said. "When they pulled up, they saw heavy fire coming from the building."
People who live inside saw the flames too. Though Nikita Silva, who lives on the second floor, said she smelled the smoke first.
"I told my husband in the back room what I smelled, and he came outside and then he saw the fire in the backyard," she said.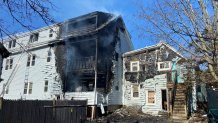 Patty DiRico also lives on the first floor, and said she heard someone yelling, "Smoke! smoke!"
"I went into the kitchen and I could see flames outside the window, so I grabbed my brother, woke him up and said, 'Let's go! Let's go! We've got to get out! The house is on fire!'"
Daniel Russo did the same. He lives in the home with his wife and four kids.
"We didn't have time to grab anything," he said. "I saw the flames and just went running and got them out. That was my main concern. If there is anything lost in the house, it's lost and we'll replace it."
Sixteen people lived in the home, including several children. All of them got out safely and no injuries were reported. The American Red Cross is working to help the residents find temporary shelter.
"I'm just grateful to be alive," DiRico said.
The Lynn Fire Department was aided at the scene by firefighters from numerous surrounding towns. They said shortly before noon that the fire had been knocked down and companies were working to overhaul the buildings.
The cause of the fire is not yet known, but fire officials said it appears to have started on the third floor.