Two men were critically injured in an explosion and fire at a commercial building in Bradford, New Hampshire, on Thursday.
The explosion and fire was reported shortly after 10:30 a.m. at Student Transportation of America (formerly Valley Transportation) located at 2345 Route 114 in Bradford, the state fire marshal's office said.
Moments later, a second caller said multiple people were inside the building and possibly injured.
The massive fire tore through the property, which includes a maintenance yard for school buses and a storage site for RV's and cars.
When the first crews arrived at the scene, they saw heavy fire and smoke pouring from the building.
Investigators say two mechanics were trapped and had to be rescued.
"Some bystanders performed the rescues, in addition to the police officers who were first on scene assisted with it and then supplemented by the first arriving firefighters they were able to free them by cutting away some of the roof that had come down, and the garage door was on top of one of the victims, as well," said New Hampshire Fire Marshal Sean Toomey.
The two victims were also surrounded by flames.
"They used a hoseline from one of the engines to keep the fire back, away from them because they were getting burned by the fire," said Toomey.
Both men have critical injuries, including significant burns and bodily injuries from being hit by the collapsing building.
At least three buses were destroyed, as well as multiple RVs and cars, according to Toomey.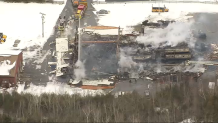 Gov. Chris Sununu tweeted about the fire on Thursday, thanking first responders who are on scene.
"State officials continue to monitor the situation with the State's Fire Marshal Office on hand," the governor said.
A team from the fire marshal's office is investigating and have at least one theory so far.
"There's a propane bus in there," said Toomey. "Reports of an explosion involving the propane bus, the evidence on scene looking at it right now appears as if there was an explosion because of the debris around the building."
But Toomey says it's still early to have a firm conclusion.
Bradford, a town of about 1,600 residents, is located about 30 miles west of Concord.